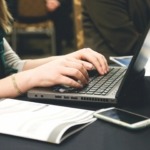 Well, friends, today is the last day of the Ultimate Blog Challenge, and I've done 27 out of 31 posts this month. I'm going to call that a win for me! I actually took on three separate challenges this past month, and completing them all has not been easy. But I put in the time and effort, so I'm giving myself high marks. Here are my results.
The Ultimate Blog Challenge
I'm thrilled with the 27 posts I've written this month. It is not easy to come up with a new topic every day, and I am proud to report that I only skipped four days. But this challenge was never really a numbers game for me. I came into it wanting to establish a daily writing habit, and I did. I carved out time to write and made it a priority. On the days when the words wouldn't come, I didn't fret about imposter syndrome or writer's block. I took those days to mean I needed a break. Giving up was never an option because I knew the words would be there when I returned to my laptop.
I want to thank Paul Taubman, our UBC leader, who sent daily emails of ideas and encouragement for the entire month. I didn't always take your suggestions, but I save every last one of them for when I need inspiration. I also want to thank everyone who read and commented on these blogs. Your support means the world to me, and as long as you keep reading, I'll keep writing.
(And please subscribe so you don't miss any posts. There is plenty more to come! 🙂 )
No Book Buy July
This challenge came to me from another blogger who suggested a "no buy July." I was intrigued by the idea but didn't want to go all in. So, I modified it not to buy books for the entire month. It took a lot of discipline not to download books from Audible or visit my local indie bookstore, but I made it through without buying one book. And boy, was I tempted! I didn't stop listening to book-themed podcasts or ignore Facebook groups that I subscribe to, like Currently Reading. 
I planned to shop my shelves and read books I already own. Sadly, I only read one book and DNF'd two other ones. So, it wasn't the best reading month for me. But at least I don't have more books to choose from because I have plenty already. I'll probably extend this challenge til the end of the summer and then hit up a few indie bookstores while we are on vacation in September. I can't deny myself the pleasure of buying books forever, but another month will be good for the bank account and my personal library.
Step Challenge
In yesterday's post, I wrote about the step challenge. I am continuing my streak of 10K steps daily and am at eight days straight. Today was a beautiful day for walking, so Chloe and I took a nice stroll around the neighborhood. This challenge also includes incentives to add bonus miles to our team total. Last week, I accomplished all three incentives – walking 10K steps for five days straight, walking with a new friend, and walking in a new location. Here is hoping our team is in second place this week. I know I did my part and will continue to do so.
Did you do any challenges this summer? How did it go? Let me know in the comments!
XO,
Elisa