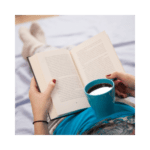 I have a confession to make. I didn't finish any books in November.
I started a bunch of them, and they are all in various stages of completion. But I'm going through a dry spell. Most of the books I'm reading at the moment are nonfiction, and I tend to read those books slower than fiction. Typically, I read these books to learn something, and I like absorbing the information before moving forward.
Of course, if the nonfiction book is a celebrity biography or a memoir, all bets are off. I devour those pretty quickly.
For instance, I'm reading "Digital Body Language: How to Build Trust and Connection " by Erica Dhawan, which is about communicating better in a remote working environment.  I'm about 120 pages in and am learning how to respond to vague and confusing emails, avoid digital ghosting, and decide if my message should be delivered via email, text, or a phone call. As a Gen-Xer who is not a digital native but wants to communicate effectively with my younger colleagues, I am finding this book extremely helpful.
Other Books I'm Reading
"Hot and Bothered: What No One Tells You About Menopause (and How to Feel Like Yourself Again)" by Jancee Dunn –  is about approaching this season of life with information and a sense of humor. Chapter titles range from "Why Did I Walk Into this Room Again?" to "50, Shades of Gray." I can't wait to review this one for you next month. 😀
"The Six Minute Memoir: Fifty-Five Short Essays On Life" Mary Helen Stefaniak – I love memoirs and essay collections, and this one doesn't disappoint. Initially, I bought this for the writing prompts in the back of the book, but as I go through each short chapter, I am enjoying this author's real-life anecdotes written in great detail.
"On Brand," by Aliza Licht  – I've always been interested in developing my personal brand as a writer. While I was working, I didn't have much time to dedicate to the idea. But now that I have some time on my hands as I look for my next career move, I'm getting a lot out of this book, which offers a beginner's look at rebranding ourselves and sharing our vision with the world. As a side note, the author is pro-Israel and has fantastic content on Instagram to educate and inform people about Israel and the rise of antisemitism. I highly recommend her book and her platform.
That's it for the books I'm reading. However, it's not the end of my book report. There's more. 🙂
Saying Goodbye to Books I Don't Want to Read
I'm doing some end-of-year decluttering and decided to dig into my bookshelves. I could seriously start a pop-up bookstore because I have too many books. I found books I forgot I owned. I walk into a room, and there is a book lying on the table or piled up in the corner. I don't want to treat my books this way. I spent good money on them, and they deserve to be read or put away until I can get to them.
I also found titles that no longer interest me. At the top of my donation pile is a recent best seller I know many people loved: "This Time Tomorrow" by Emily Straub. After several attempts at reading this book and similar time travel stories, I've decided this is not the trope for me. To be clear, I enjoy books with different timelines — like a character whose story switches from past to present. This back-and-forth writing doesn't bother me.
I'm talking about actual time-travel stories involving a protagonist literally going back in time through some strange portal and not knowing how they got there and trying to get home. So many of these books are described as being similar to the movie "Groundhog Day." I know I'm in the minority here, but I really disliked that movie. For me, reliving the same day repeatedly with slight variations in order to learn a lesson or right a wrong is not how I want to spend my precious reading time. So those books automatically land in my donate pile for someone else to enjoy. And more importantly, I'm giving myself permission to not buy those books, even when the titles get rave reviews.
By the way, if you have a trope you don't like, I am giving you the go-ahead to make room in your bookshelves for books you know you will love.
What book tropes do you stay away from? Friends to lovers romance novels? World War II stories? Violent plotlines? Children in jeopardy? Let me know in the comments. 
Happy reading!
XO,
Elisa