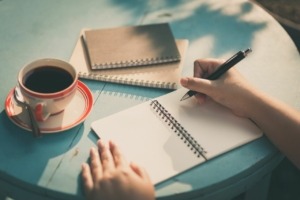 Last night, I had the honor of meeting Pulitzer-Prize-winning journalist and best-selling author Anna Quindlen.
Okay, when I say I "met" her, I sat in the audience and heard her speak about her new book, "Write For Your Life," asked her a question about writing my memoir, and stood in line for her to sign my book. I spoke to her for no more than a minute, and yet her words have changed me as a writer.
For instance, why write? Yes, I have a personal connection to Parkinson's Disease and often feel I was put on this Earth to raise awareness and tell that story. However, it isn't the only reason. I also write to be known. That doesn't mean I long to be famous or win awards, far from it. I hope someday my 50-year-old grandchild (f I should be so lucky to have one) discovers my blog, reads my stories, soaks in my words, resonates with them on a personal level, and ultimately knows me as a person. And then, my writing becomes my legacy long after I'm gone.
Another gem from last night was during the Q&A when someone asked Ms. Quindlen what advice she has for aspiring writers. I love when people ask this of other authors. The answers always vary and are often either practical, inspiring, or esoteric. Quindlen did not disappoint.
"Put your butt in the chair," she said. It is the only way to be a prolific writer. She said to write when you are in the mood and when you aren't. Write when you feel you have nothing to talk about. And write the minute something strikes you because if you don't, you run the risk of forgetting about it.
She is so right. Sitting down to write can be a challenge for me. It isn't that I don't have something to say. (I always have something to say. 🙂 ) It's the real-world distractions like housework and errands that keep me from my passion. I also have a day job that I love, but where I constantly write, leaving little creative juices left for writing my memoir. All of this is why this blog too often winds up at the bottom of my to-do list.
So, I've taken a few actions to remedy this problem. This week, I signed up for HippoCamp, a small writer's conference in Lancaster, PA, specifically for creative non-fiction writers. This is an important distinction because so many events focus on fiction writing, with only a handful of workshops dedicated to personal essays, biographies, and memoirs. At HippoCamp, I'll learn to fact-check my family story, use my five senses to bring back long-lost memories, and how to infuse my weird sense of humor into complex topics. The writers who attend this conference are supportive, brilliant, inspiring, and, like me, they want their stories to be known.
I'm also putting my butt in the chair. This requires a drastic change to my morning routine. No more sitting on the couch for an hour and scrolling through Facebook. I waste precious time there. Mornings are the best time for me to write. So, I will set my alarm and stop hitting the snooze button. When I wake up, I will drink coffee, do the Wordle, and write. Because this book isn't going to write itself, and this blog will soon be forgotten if I don't give it some love and post more often.
Most importantly, I will never be truly known, and that yet-to-exist grandchild will never read these stories until I sit down to write them.