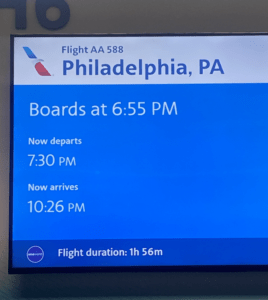 Back on April 1st, I promised you 30 blog posts in 30 days. I knew I had a business trip planned, but I thought I'd be able to write some things ahead of time and line them up to publish while I was away.
Wishful thinking… who was I kidding? I had so much work to do to prepare for this trip that I didn't even start packing until the night before. See my last blog post for details.
When that didn't work out, I thought – okay, I'm bringing a laptop on this trip. I'm sure I'll have some spare time to write a few quick posts at the end of each day.
Wishful thinking… who was I kidding? I was so tired when I returned to my hotel room that I only had the energy to get changed, brush my teeth, and go to sleep.
So, when that didn't work out, I knew I had a three-hour wait for my flight from Chicago to Philly, and I thought I could quickly crank out one or two posts and start to catch up on the week of blog posts I lost.
Again, wishful thinking…who was I kidding? My flight was delayed, and I hung out at the airport with some of the wonderful people from my trip instead. Thankfully, we made the best of it. We talked about our trip, checked our airline apps, shared our frustrations and horror stories about air travel, and considered renting a car and driving 12 hours to Philly. At one point, we all walked over to try and intimidate the lovely people at the customer service desk to see if we could get on any plane to Philly. We thought the "Philly Six" (which is what we nicknamed ourselves) could find a plane for us — or at least buy us a round of drinks for our troubles. I was also busy calculating the time change plus the travel time from the Philly airport to my house, texting my family, and hoping I'd see them soon and sleep in my own bed.
On the flight home, I thought about blogging later today. I had the day off and thought I would definitely have time to put some thoughts down on paper.
You guessed it. Wishful thinking… who was I kidding? I slept in until 9 am, checked my email, posted some photos from the weekend on our social media platforms, did laundry, camped out in front of the tv, and napped on and off all day long. Actually, I must have dreamt about doing laundry because I see that all of my dirty clothes never made it out of the sorting baskets on my bedroom floor. I guess that means I'll be wearing PJ bottoms and a cute top to work tomorrow. Good thing I work from home. No one in my Zoom meetings will ever know (unless, of course, you rat me out 🙂 )
As you can tell, I'm still a little punchy from my six-day road trip and three-hour wait at the airport, which turned into a four-hour delay yesterday. What is it about me flying through Chicago?? I always get stuck there. One of my favorite bloggers is sharing her travel nightmare stories this month, and I'm pretty sure if I shared all of mine, they would always begin with a flight through Chicago.
Okay, I need one more good night's sleep, and then I'll write more exciting blog posts to finish the month.
Wishful thinking? I hope not!
Anyway – I missed you all, and I'll see you tomorrow.
XO,
Elisa