"No one likes us. We don't care. – Jason Kelce, Center for the Philadelphia Eagles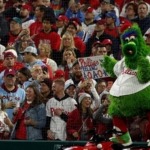 For as long as I can remember, Philadelphia sports teams have been seen as the underdog. That's the team that everyone underestimates. The one national announcers clearly don't favor despite their supposedly unbiased game time commentary.
Basically, any team from Philadelphia. 🙂
I love rooting for the underdog. It's just fun. And when we win, it's that much better! In baseball, every strike, catch, and out is meaningful. Every mistake is excruciating. Every play gets our team that much closer to or farther from our goal. And right now that goal is the WORLD SERIES!
Our fanbase is in the news just as much as our winning team. Sports reporters and commentators love to talk about and show the packed stadium, the decibel level, and the creative signage from die-hard fans. To understand the mind of a Philadelphia sports fan means sitting in the stands or wherever we watch the game, and  visualize ourselves swinging in the batter's box, hanging out in the dugout, and playing on the field.
Yes, we have a few crazy people who run across the outfield for the thrill of it, even if they are ultimately tackled by stadium security. At least they get their viral moment and 5 minutes of fame. I'm not one of those fans. I prefer to sit on my couch, scream at my television, wake up the neighbors, and post on Facebook. I'm just as passionate as the crazy people, but I'm focused on the game and eventually the glory.
I've written about my Phillies fandom journey in this blog before (here). Right now, I want to talk about why I root for the underdog.
Underdogs let underestimation become their motivation.
Don't believe me? How many times have you heard a commentator underestimate one of our players seconds before they hit a ball out of the park? Trust me it happens, ALOT! Our team loves to prove everyone wrong. Someone is in a slump? That's okay. Their time to shine is right around the corner.
Go ahead. Keep underestimating us. We love it!
Underdogs know that heart, grit, and the will to win is just as important as talent and skill.
The Phillies have the talent and skill, but we also have a vibe. Just as fans wear our hearts on our sleeves, our players are just as emotional and committed to bring us a win no matter what it takes.
In the words of outfielder and heavy hitter, Nick Castellanos, "You're not going to find a group of guys who care more and want to win for each other than the guys in this dugout. That matters because not every dugout is like that."
And Bryce Harper, "I hit the ball and it's for this whole team, this whole organization. It's for every single fan that's here and now…Everybody that has Phillies on their chest is family.
Check out this video showing our heart and grit.
Underdogs succeed because they say no to fear.
We steal bases like there's no tomorrow. (Let's go to video…)
We fall into the dugout to catch a fly ball. (See Bryce Harper…)
Phillies manager, Rob Thomson, told the team to be aggressive, but not stupid. Like the fans, he likes to see his players take chances, and understands that you win some and lose some. Whatever happens with this team, the one thing the Phillies won't lose is the love and loyalty from their fans for years to come.
Successful underdogs respond well to adversity.
See Jason Kelce's quote at the top. We don't just respond well to adversity; we thrive on it. Enough said.
Go Phillies! Let's bring home the National League pennant this weekend!
XO,
Elisa