"Wear a mask." – Dr. Anthony Fauci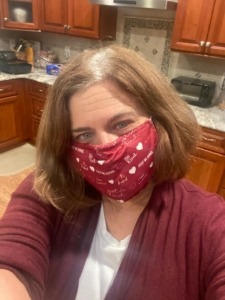 Sadly, I have been sidelined by COVID-19. Three out of four of my family members have tested positive. The fourth one is chasing me around the house with a can of Lysol.
Thankfully, I'm fully vaccinated and boosted. This is my 3rd time around, and it is not nearly as bad as before. Thank you, Dr. Fauci!
But I'm going to get some much-needed rest tonight, so I'll be brief.
Tonight's post is brought to you by:
COVID at-home test kits
N95 facemasks and the Be Kind mask I'm wearing in this photo
Hand sanitizer
Kleenex tissues
Whole Foods chicken and rice soup (yum!)
Throat Coat tea with honey
Gatorade
Clorox wipes
Lysol spray
Tylenol
and Vaccines!
Stay healthy, everybody!
XO,
Elisa