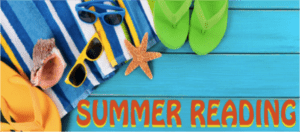 Summer is an excellent time to dive into reading (see what I did there?). Debut authors have published fantastic books, and more well-known authors typically pick this time of year to release their latest novels. You can download a summer reading guide from just about anywhere. And there are tons of podcasts with episodes dedicated to the hottest summer titles. I should know. I've listened to most of them!
When it comes to my summer reading list, I only have one rule: it has to be a page-turner. It doesn't matter what genre the book fits into – like historical fiction, memoir, chick-lit, or political thriller. As long as I'm engrossed in a good story, I'm all in. Here are some of the books I've been reading lately, and I highly recommend them to you.
Debut Novels
Lessons in Chemistry by Bonnie Garmus – Elizabeth Zott is a brilliant yet unappreciated chemist. Set in the 1950s and 1960s, Elizabeth is a feminist before her time. She wants a career but is sidelined by ridiculous stereotypes and unthinkable misogyny. After being fired from her research lab, she reluctantly agrees to star in her own cooking show – Supper at Six. Determined to bring science into the kitchen, she makes her way to the top of the tv ratings inspiring women along the way. I rooted for Elizabeth from the very start of the book, and she did not disappoint. I listened to it on Audible and enjoyed the narration immensely. This story is perfect for those who have faced career obstacles and are determined to have it all.
Black Cake by Charmaine Wilkerson – Family matriarch Eleanor Bennett has died. She left behind an eight-hour recording for her children to listen to that reveals secrets she kept from them her entire life. Her story is a doozy, and her children – estranged from each other – are initially reluctant to hear it. But they soon realize they never knew who their mother really was, what she went through as a child from the Caribbean, and how Eleanor's past will impact them for the rest of their lives. I listened to this on Audible, but I think I would have preferred to read the actual book or on my Kindle. There are so many characters, and their accents are hard to distinguish when read by the narrator. I loved the story, but I had to rewind a lot to remind myself who each character was and their connection to everyone else.
Two more things I will say about this book. First, I've been looking for books written by authors who have different life experiences. This American author is Black and has lived in the Caribbean and Italy. Her story, which incorporates a lot of cultures, food, and traditions, opened up a whole new world that was a joy to visit.
The other thing is that I've seen this book compared to Jonathan Tropper's book, This is Where I Leave You. His book is also about a dysfunctional family who sits shiva after their father dies. Secrets are revealed, and family drama is abundant. But, the stories differ because, in Tropper's book, the humor is a connecting thread throughout the story. Black Cake is a much more somber read. Both are equally compelling but with entirely different writing styles.
Other debut novels I've enjoyed include:
Such a Fun Age by Kiley Reid
The Tobacco Wives by Adele Myers
Memoir
Out of the Corner by Jennifer Grey – Celebrity memoirs are my guilty pleasure. Many of the ones I enjoy bring me back to the 1980s when their faces covered my bedroom walls, and their lives seemed full of glitz and glamour. But as these juicy books reveal, there is more to the story. Jennifer Grey starts her book by addressing the elephant in the room – her infamous nose job that left her utterly unrecognizable as the star of Dirty Dancing. She talks about how her parents made her feel that she could be a more successful actress if she looked the part – meaning to fix her nose. She fought that idea for the longest time and then decided to do it. She talks about how this decision impacted her life and career for the last decade or so and what she learned from the experience. And then, she tells all about her career and relationship with Matthew Broderick and their tragic car accident in Ireland. She also does a deep dive into her professional and often caustic partnership with Patrick Swayze during the filming of Dirty Dancing and what she wishes she could say to him today. This memoir is the perfect beach/pool read. I finished it in less than two days.
Other memoirs I loved include:
Stories I Only Tell My Friends by Rob Lowe
Going There by Katie Couric
Lucky Man and No Time Like the Future by Michael J. Fox
Becoming by Michelle Obama
Random Reads
Book Lovers by Emily Henry – No offense to those who love this genre, but I'm not a huge fan of romance novels. When I was young and single, I devoured everything from teen trysts to forbidden love stories to Jackie Collins and Fifty Shades. To me, the storylines don't vary all that much, and happy endings are practically a sure thing. The exception to this is when there is another story surrounding the romance, and in this regard, Book Lovers delivers.
Book Lovers is about an editor and an agent who start as rivals and wind up as friends and then, well… I won't ruin it for you. I liked this book's parallel storyline about two sisters who take a girls' trip to a small town to get away from the big city. The sisters' dynamic is extremely familiar to me. Nora is the big sister, and Libby is the baby of the family. There are themes of being overprotective and underestimating the true gifts that each sister brings to the table. Something that I have been guilty of in the past. While the main story, banter, and sexual tension between Nora and Charlie kept me interested, the sisters were why I stayed to the end. The author captures their relationship beautifully, and the end does not disappoint.
There is one part of this book that did infuriate me. One main character has a medical emergency that I know is not treated properly by her doctors. I almost DNF'd the book right then and there; however, I was already so far into it that I had to see it through. If I ever met the author, I'd tell her that I enjoyed the book but wished she did a little more homework.
Organizing for the Rest of Us: 100 Realistic Strategies to Keep Any Home Under Control, by Dana K. White – Besides reading books, organizing my closets and decluttering has become a big part of my weekends. This author hosts the podcast "A Slob Comes Clean." (Great title, right?) She is the anti-Marie Kondo and breaks the rules of many organization books I've read over the years, and I love her for it! This book gives many helpful hints that also account for people's time, energy levels, and overall desire to keep a neat (but not perfect) house.
Currently Reading
As you can see, April and May have been productive months for me in terms of reading. At the moment, I'm in the middle of a few books:
Inheritance by Danni Shapiro (actual book)
Front Row of the Trump Show by Jonathan Karl (on Kindle)
Write for Your Life by Anna Quindlen (actual book)
The Lazy Genius Kitchen by Kendra Adachi (on Kindle)
Reviews to come!
Indie Bookstore Plug
I know you have heard me say this a million times, but to me, I don't say it enough. Please support your local independent bookstore! Last month was Independent Bookstore Day, and of course, I celebrated it by going to Doylestown Bookshop – my go-to indie. I limited myself to buying three books, but when I went to the counter, I spent enough to earn a free book from the Advanced Reader Copies cart. This is a cart of books that may or may not already be published in galley form. So basically, I acquired a fourth book that I had on my wish list for nothing.
This is the kind of magic that happens at an indie bookstore. If you support them long enough, you might get a free book or a coupon off your next purchase, or a cool bookmark. I know these bookstores are not the place to get bestsellers at bargain prices, but you will find yourself in a community that loves books as much as you do. Even if you go in there and buy one book, I guarantee you will feel better knowing you did your part to support a local business.
Thanks for reading this to the end! There will be more blog posts to come this summer – I promise! Until then, let me know what you are reading and enjoy!
XO,
Elisa