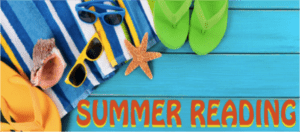 It's been one of those Sundays where I have a lot to do and not a lot of time to do it. One of the things I had hoped to cross off my to-do list was to set up my affiliate bookstore with Bookshop.org. I thought it would be an excellent way to monetize my blog, and I love that they support independent bookstores. But, easier said than done. After a few hours of trying to upload my book list, the website incredibly uncooperative. And the Help section was not helpful in the least. So instead of the intended booklist, I am giving us both a gift today.
For Me: An easy blog post to write and get back some of the time I lost working on that website. (so frustrating…)
For You: With summer reading season upon us, I thought I would offer up some page-turners. I hope you find something you like from some of my favorite genres. All of these are linked to Goodreads. If you do decide to buy a book, I hope you will support your local bookstore.
I'll be back tomorrow with much more riveting content. I promise.
Enjoy!
Fiction
Historical Fiction
Mystery
Essay collections
Pop Culture
Current Events
Celebrity memoir
Writing