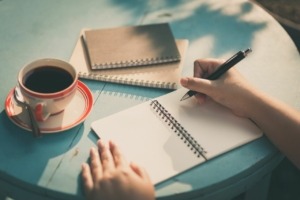 For me, the hardest part about fulfilling a personal goal has always been starting. When I want to start an exercise routine, getting myself to the gym is the most challenging. Once I'm there, I hop on the treadmill or the elliptical and thirty minutes later, I feel amazing. I wonder why I don't do this more often. I could be 25 pounds lighter right now if I just showed up.
The same goes for writing. For the last 31 days, I woke up, got dressed, poured myself a cup of ambition and sat down at my computer screen. Sometimes, I would type the words "I don't know what to write" until something came to mind. Other times, I'd shut off the computer and pray an idea comes would magically appear on my way to work. And there were a few days when I had to give myself a much-needed break.
But guess what? I DID IT! I put myself first and showed up. And here I am 31 days later with a new writing routine. I carved out the time for it. I made it a priority. I succeeded.
Why don't I do this more often? I feel amazing! I could have had my first book written if only I did this sooner. 😉
There is no stopping me now! I may not get to 29 posts for February, but I promise to show up when I have something to say.
Thank you for reading my posts and supporting me all month long. Stay tuned!