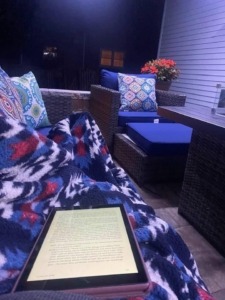 My new favorite place to read these days is on our new patio. Over the summer, we took a boring concrete slab and created an outdoor oasis. I love sitting out there during the day to eat my lunch and read the New York Times. In the evenings, the awning provides the perfect lighting to read under the stars. And now that summer is turning to fall; the cooler temperature reminds me to grab a cozy blanket and a hot beverage on the way out the door.
The patio is one of the big reasons why I was able to read so much this month. It is a new space to enjoy, and I could sit out there for hours. Here is what I have been reading in my new favorite spot.
From her weekly Chick Lit columns in the Philadelphia Inquirer to her crime novels and hilarious and often poignant essay collections, I count Lisa Scottoline among some of my favorite authors. So, it didn't surprise me when I gave her a 5-star rating on Goodreads for her first historical fiction book, Eternal. This incredible story has it all – a romantic triangle, family drama, loss and love, food and culture. It all takes place in Rome at the beginning of World War II when Italy sided with Nazi Germany and passed laws against the Jewish people. This turn of events tragically impacts one of the main characters and ultimately changes all of their lives forever. Honestly, I don't want to tell you much more except that the entire book is a page-turner (all 480 pages!), and I can't recommend it highly enough.
"Four siblings throw an epic party to celebrate the end of summer. But over the course of 24 hours, their lives will change forever," reads a description of the book.
This was the IT book of the summer. It landed on every "must-read" summer reading list, and the hype was outrageous. I mean – it's a book, not the second coming of Christ. Nevertheless, avid readers, casual readers, beach readers, and everyone in between looked forward to buying the latest book by this incredibly talented author – including me.
I enjoyed the first half very much. Each of the siblings had interesting backstories, and it was clear that they loved each other in good times and in bad. Much of their story was told in flashbacks to their difficult childhood (an absentee father and a mother who foolishly believed he would come back someday). Each flashback added elements of strength and vulnerability to the characters that made me root for them to all have a happy ending.
And then the party started, which was when about the time that I wanted to go home. So many minor characters are introduced in the second half of the novel. I had a hard time keeping them all straight. And honestly, I didn't want to. They added absolutely nothing to the storyline except that they were all Hollywood celebrities who were there for sex, drugs, and rock and roll. To get back to the main plot, I had to trudge through the backstories of all these new people and endure their drunken antics in graphic detail. When we finally returned to the siblings, I felt the end of their stories was rushed in an attempt to wrap it up in a neat and tidy bow for the author to meet a looming publishing deadline.
I like this author, so I will continue to read her work. Malibu Rising was not my favorite read of the summer, but I did finish it…which is more than I can say for the next book.
You guys… I wanted to love this book! I REALLY DID. In fact, I read over 200 pages of it before I DNF'd it for good. One thing I don't care for in my reading life is a slow burn to arrive at the action in a story. I love how characters are introduced and meeting their family and friends. I enjoy witnessing the situations that unfold that lead me to the meat of the story. But in this book – after 200+ pages – nothing was happening to keep me engaged. Sure, there were office politics and microaggressions everywhere. And then, there were flashbacks to another pair of black women who, in my opinion, did not add much to the story. I have since learned that they play a more significant part at the end of the novel. But, at the time, I found them to be a nuisance. I think this story would have been much better if the author had a much better editor. There was so much that could have been cut out to move the story along.
From reading other reviews, I understand that the explosive twist and subsequent events made the book special. Unfortunately, I couldn't get there. There wasn't enough for me to stick around for the big finish.
What I'm reading now
I decided to change things up and pick up a political thriller complete with racial tension, a public health crisis, and an attempt to take over the government. Yep – I'm reading a book about the Trump administration.
I Alone Can Fix It is a behind-the-scenes look at the last year of his presidency, complete power grabs, personalities, and peril all taking place in the toxic work environment that was the White House in 2020. It could probably be turned into a blockbuster movie if it wasn't so terribly real, and we all didn't experience it unfolding before our eyes. The only thing missing that would come in handy is an organizational chart listing all the people and their positions so I can keep track of who is who. For that reason, I would recommend reading this in hard copy or Kindle format so that you can easily go back and refresh your memory. And if you still have some PTSD from the last 18 months, maybe you want to skip this book.
Top of My TBR Pile
Katie Couric's memoir – Going There – is coming out on October 26th, and I am here for it. I preordered the hardcover from my local indie bookstore because I want it on my bookshelf. I've admired her reporting skills for years and appreciate all she has done to raise awareness for many causes. But, let's be honest, I'm also here to read about her working relationship with her disgraced co-host Matt Lauer. What did she know? How did she find out? Do they still talk to each other? I can't wait to find out.
So, that's it for September. Don't forget to support your local independent bookstores. By doing so, you help dollars, jobs and taxes remain in your community and meet book lovers like you who can introduce you to your next great read. If you are in the Philly area, check out some of my favorite indie bookstores in person or like them on Facebook. Here is a quick list:
Reads & Company in Phoenixville
The Doylestown Bookshop – Doylestown borough
The Lahaska Bookshop – Peddlers Village
Words Matter Bookstore in Pitman, NJ
Open Book in Jenkintown
Happy reading!
Elisa