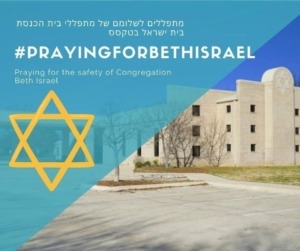 This evening, I am glued to my television watching a hostage situation unfold at a Reform synagogue in Colleyville, Texas. As a woman of the Jewish faith, I am saddened and horrified at what is happening right now. So much so that a light-hearted blog post seems impossible for me to write this evening.
No one should have to fear that something like this may happen in their place of worship. And during a Shabbat morning service. And yet, the Jewish community – my community – has seen this happen way too often. Antisemitism is real. Don't let anyone tell you differently.
Dr. Martin Luther King, Jr. once said, "Hatred paralyzes life; love releases it. Hatred confuses life; love harmonizes it. Hatred darkens life; love illuminates it."
May our world, our country, our communities, and our own circles grow toward more love, light, tolerance, and harmony.
I am praying for the safety of the rabbi and congregants being held hostage at Congregation Beth Israel and hope for a peaceful resolution to the situation. I am also so thankful for the members of law enforcement who help keep our communities safe.