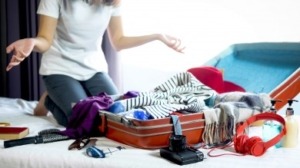 When I was younger, packing for a business trip was so much easier. I calculated how many days the conference lasted plus the number of mandatory business dinners. I  added in a few fun tops to wear to the "after-hours" activities (also known as hitting the bars with co-workers) and made sure to include comfortable travel clothes. My biggest conundrum was figuring out how to pack my suitcase with the least amount of shoes. They took up so much room! The trick was to wear the bulkiest shoes on the plane, so I always had sneakers with me. But I still had no less than three pairs of work shoes in tow. (No pun intended).
Next week, I am going to Chicago on a business trip for six days, and I have already started the packing process. I've been doing laundry all day, got a mani/pedi, and picked up the necessary toiletries at CVS. I also located my packing cubes – the best invention ever! – started to pick out my outfits and put aside the good underwear. This trip is more complicated than others because I am spending part of it at a nice hotel where we are hosting a major fundraiser. The second part takes place at a retreat center/campground. Therefore, I'm packing for all occasions and situations: business/cocktail attire for the fundraiser and sweatshirts, jeans, and lots of layers that can pass as professional but still appropriate for the outdoors. I may need to check another bag for my shoes!
Oy!
And if my outfits weren't complicated enough, I have another issue. I use a CPAP machine at night for my sleep apnea. This thing takes up more room in my suitcase than my shoes ever did back in the day. When I was fitted for the machine a few years ago, the travel version didn't seem worth it at the time. It would have set me back about a thousand dollars. It also runs on distilled water, and since I'll be without a car and in the middle of the woods, I'm sure it's not readily available unless I schlep my own water with me. I'm debating on leaving it at home, even though it will mean my quality of sleep suffers. But who am I kidding? I don't sleep well when I travel anyway.
Well, at least I no longer have to worry about any "after-hours" outfits this time. At my age, these are otherwise known as pajamas.
Got any packing tips for me? Share them in the comments.