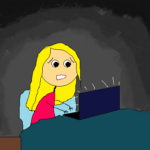 Today's story begins with $300 burning a hole in my professional development pocket. I never miss a chance to use what I consider to be free money to register for a class and enhance my knowledge for my career.
Unfortunately, this amount of money is barely enough for one class, let alone an entire out-of-state conference. But one day I dared to dream. I found the ACES conference — the American Copy Editors Society–which looks like a writer's paradise. Three days of learning and feeding my inner (and outer) grammar nerd.
The conference was at a Hilton in Salt Lake City, and I live in Philadelphia making it impossible for me to attend without using my own money. But, I checked out the venue anyway–and that is when the stalking began.
My Facebook feed filled up with Hilton ads. The top ad on Yahoo.com was for Hilton. The ad banner on the CNN website was for — you guessed it — Hilton.
Hilton Garden Inn
Hampton Inn
Doubletree Suites by Hilton
Not only am I not going to this conference, but my little jaunt into professional development fantasy land resulted in a cyber-stalker.
I felt violated – like I was being watched, but no one was around. With the simple click of my mouse, Hilton began to follow me.
It's like this for everything online these days. Wherever our minds and mouses take us, there is not someone, but something, lurking behind it. I can't look up my favorite slow cooker bbq turkey cutlet recipe without being bombarded by ads for McCormick, Jennie-O and Shady Brook Farms. Even worse, I accidentally clicked on the wrong SkinnyTaste recipe which triggered ads for WW, Hungry Girl and the like. And if I was in the market for a new crockpot, I'm sure those companies are waiting for their big moment.
Google is revolutionary. My kids will never have to see the inside of a dusty card catalog when they can find the latest research at their fingertips. But when we use Google, we all pay a price.
We are being watched.