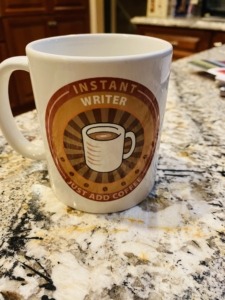 This morning, I woke up to check my blog stats and realized that I am hitting a blog milestone today. This is my 300th post. I thought this would be an excellent opportunity to take you behind the scenes of my writing life.
Who First Inspired Me?
In the fourth grade, my teacher assigned the class a writing project – tell a story about an inanimate object and give it human qualities, characteristics, and behaviors. This writing style is called personification or anthropomorphism. I composed an end-of-life story of a pair of sneakers sitting on top of a trash can, reflecting on the past and awaiting their fate. In my teacher's opinion, the best line of the story was "I saw my life flash before my shoelaces."
I got an A, and a writer was born.
Who Nearly Killed My Writing Dreams?
For the longest time, I let my 12th-grade journalism teacher live inside my head and feed a severe case of imposter syndrome. For years, I thought she was right when she told me I didn't have what it takes to be a writer. Not too long ago, I wrote her a letter that evicted her from my mind. Obviously, I still think about her, but instead of letting her words sink in, I laugh at them because I proved her wrong.
What is My Book About?
If you have been following my blog for a while, you know I've been working on a book about Parkinson's Disease (PD). I know way too much about this disease. While PD is not a death sentence, it is a progressive neurological disorder. My maternal grandmother was diagnosed in the 1980s and passed away from complications. Thirty years later, my father was diagnosed. He is doing well now and will continue to live life to the fullest and fight until there is a cure.
With close relatives on both sides of my family affected by PD, I am uniquely positioned to raise awareness and share my story. I also wonder if I have a predisposition to PD later in life. I'm planning on consulting a genetic counselor to find out more. But, to be honest, I'm not sure I want to know too much about my future. What would I do with that information? Would I live differently? Exercise more? Participate in research studies?
Do I really want to know? My curiosity says yes, but the hypochondriac in me says, "HELL NO!"  Regardless, through their stories and mine, I hope I can make a difference.
What Does My Writing Community Look Like?
I am fortunate to have found several ways to be a good literary citizen. Years ago, I walked into the Philadelphia Writers Workshop, which convened once a week near my home. I met my writing coach and workshop facilitator, Rachel, who has been a huge part of my writing life ever since. I was also introduced to other local writers with big dreams like my own. A lot of us have stayed in touch over the years supporting each other and celebrating our work.
Before COVID-19 hit, I attended writing workshops and conferences, book fairs, and author signings whenever I had the chance. Last summer, I masked up and attended HippoCamp for nonfiction writers like me, which gave me another huge boost – and more literary citizens to commiserate – I mean bond – with.
This year, I want to submit more articles for publication. First, I need to develop a daily writing habit – this is where the Ultimate Blog Challenge community and you – my readers – come in. I already feel the love from my fellow writers, family, and friends. And with every comment and like that you are generous enough to offer me, I get that extra dose of confidence. So, thank you. It means a lot to me.
What Writing Advice Can I Give You?
Never give up on your writing dreams – whether it is to write a fantastic blog that goes virtual and feeds into your business or creative passions, or you want to be a published author, you belong in the writing community just as I do. You do. You belong. Don't give up.
In the words of Toni Morrison, "If there's a book you really want to read, but it hasn't been written yet, then you must write it."
XO,
Elisa