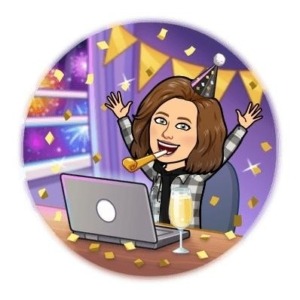 I learned a long time ago that New Years' resolutions don't resonate with me. I make them, and I break them without a second thought. There are a few reasons for this. For starters, resolutions are typically too broad. Lose weight. Get organized. Write more. Volunteer often. Yes, I could drill down each of these statements with smaller steps, an overall plan, and a foreseeable goal. And then, to seal the deal, I would find the perfect app to accompany it.
To be honest, I already have the steps, plans, goals, and apps in place. And I'm working through each of these goals slowly but steadily. So, what do I need resolutions for? To commit to the same things I committed to last year? Seems a little silly to me.
Nevertheless, I like to jump on a good bandwagon, and writers have the perfect tradition for this. We pick a word of the year. Instead of making resolutions, we challenge ourselves to find a word that encompasses the kind of focus we want to achieve year-round.
It's a pretty tall order, but I highly recommend it, especially if you aren't a resolutions person.
Just to recap, in 2018, picked the word "coffee" and vowed to meet up with people to have coffee and catch up, network, or just for laughs. That was a fun year. I can't find the word I chose in 2019, but for 2020, it was "believe," and last year's word was "today."
For 2022, I wanted to pick something that motivates me and inspires me to grow and change for the better. Who better to turn to for inspiration than author and motivational speaker Brene Brown. She once said, "connection is why we're here. It is what gives purpose and meaning in our lives."
I agree with this on so many levels. What are we here for if not to find purpose and meaning in our lives? So, my word of the year is CONNECT. It speaks to me for several reasons. Here are a few of them.
Personally Speaking
For the past few years, I've said that I have a book in me. I am finally getting that book down on paper. In order to write a book, you have to connect on a deeper level with yourself, your past, and your future. This is what I have been doing for the last year with the help of the writing community, where I am an active participant. Soon enough, I will connect the dots on my story and hopefully be fortunate enough to share it with the rest of the world.
I will also start a new chapter in my life later this year as an empty nester. Both of my kids will be in college, which will be quite an adjustment. I admit that I'm feeling a bit anxious about it. But, I am combatting that anxiety by connecting on a different and exciting new level with my husband and my semi-adult children.
While I'm looking forward to the personal growth that will bring me, I'm also not rushing it. I plan to be present for all the special occasions and little parenting moments I can collect until I have to drop Andrew off at college.
Professionally Speaking
From a career perspective, I wouldn't be where I am today if it weren't for the people I've met along the way. I have an excellent professional support system made up of mentors, colleagues, friends, and family who continue to encourage and inspire me. I am so grateful to them, and in 2022, I want to reconnect with them, help them in their journey, and see where that leads. Networking has never been a chore for me. I thrive on meeting and learning from new people. LinkedIn was a big part of that when I was looking for a job. Now, I want to look for opportunities where I can share my expertise, continue learning, and give back to those who have been so good to me.
A Word on Disconnecting
When I think about connecting with what's most important to me in 2022, it also helps to recognize what makes me unhappy. In 2020, I left a toxic work environment for a much more supportive one. This made all the difference in my life this past year. I'm much happier, healthier, and better for it. And now I know that life is too short for jobs, people, and things that don't bring us joy.
I also want to disconnect from doom-scrolling on social media and watching hours and hours of news programs. I've been a news junkie all my life, but it has not served me well lately. At this point, I'm scared of the pandemic, the politics, and the pandemic politics. I want to be informed but need to find more balance here. And sometimes it is better to unplug from all of that shit instead – with the exception of Jake Tapper and all of the late-night talk show hosts. They still bring me plenty of joy.
I will also continue disconnecting from the world for a while with a good book. I read 30 books in 2021 and set a new Goodreads goal for 35 books in the new year. I'd actually like to read more than that, but we will see what happens. I also learned to DNF (do not finish) books that I can't get into the story. Again, life is too short.
One More Thing
This post is the start of a new blog challenge for me – the Ultimate Blog Challenge consists of 31 posts in 31 days. Some days I'll have plenty to say, and other days I may post a photo or a quick story. I hope you will read, comment, and share your stories with me too. Don't want to miss a blog post? Subscribe above to get a post in your inbox every day!
Happy New Year! Let's connect!
XO,
Elisa