This weekend was supposed to be relaxing. To a certain extent, it was. I went out to dinner with my husband on Friday night, where I enjoyed a delicious mojito after a long week. We hung out with friends at the swim club for a few hours on Saturday. Today was a rainout, so I decided to be super productive by catching up on work, laundry, cooking, dishes, etc. And now, I'm sitting here on Sunday night, and the writing tank is almost on empty.
What can I possibly tell you that you might find interesting? I watched the Wham! documentary on Netflix this weekend and rediscovered my youth. The pop songs washed over me, and I forgot how much fun music used to be. I immediately pictured myself back in my teenage bedroom, listening to "Wake Me Up Before You Go-Go" on my boom box. I also learned a lot about Andrew Ridgeley and how he supported George Michael throughout his solo career. Turns out, the guy was a real mench! The film is so well done, and I highly recommend it, especially if you are in the mood for an escape from reality and a dose of 80s nostalgia.
Hmm, what else can I tell you? Andrew is doing a no-shave July along with the rest of the coaches on the swim team. Swimming is a funny sport when it comes to hairstyles. When Andrew was little, he rocked a mohawk with the other kids on the team – for three summers in a row. In high school, the boys on the swim team bleached their hair blond for several weeks. Now, he is giving up the razor for the month of July. I don't dislike the facial hair as much as I thought I would. It definitely covers up his baby face, but not enough that he wouldn't get carded at a bar. He says he will shave it in August but might leave a goatee behind.
No matter whether he has the mohawk, the blond beach bum look, or the goatee, he is still a cutie – then and now.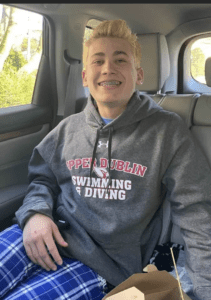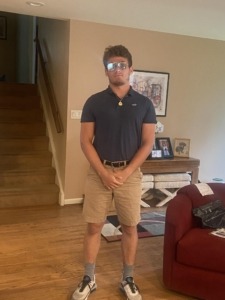 That's about all I've got for today. See you tomorrow.
XO,
Elisa