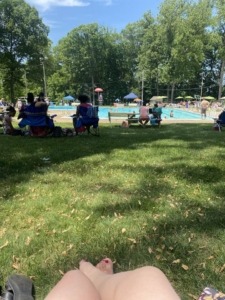 Summertime is my favorite season because it is the time of year when I find it easier to give myself permission to prioritize reading over everything else. For me, summer and books are like Santa Claus and Christmas. They just go together.
Right now, there are way too many summer reading guides to count, and I can't get enough of them! I've added even more books to my already overloaded TBR pile, but I'm also in the mood to shop my shelves because I have so many titles at my fingertips. Right now, I am reading "Symphony of Secrets" by Brandon Slocumb and "Write the Damn Book Already: Tell Your Story. Share Your Message. Make an Impact" by Elizabeth Lyons. (I'm trying! I'm trying!)
In the meantime, I read three books this month and reviewed them below. Let me know what you are reading right now in the comments!
The Teachers: A Year Inside America's Most Vulnerable, Important Profession by Alexandra Robbins
In college, I wanted to major in secondary education and become a history teacher. I loved my history teachers, and I've visited Williamsburg, Virginia, and other colonial battlefields numerous times, so it made sense that being an expert in colonial history and teaching would be my chosen career. Unfortunately, I didn't care much for my educational theory classes, so I decided to change my major to the more impractical B.A. in History with a minor in Journalism. After reading this year-in-the-life account of three school teachers, I think I made a wise decision.
I've always known that teachers are dedicated to their students, but I don't think I've appreciated their efforts enough — and I'm the daughter of a public school teacher! This book gives a behind-the-scenes look into the school year and what teachers go through to succeed in their classrooms, which too often is detrimental to their personal lives. From covering for other teachers and leading extra-curricular activities to dealing with difficult parents and even more difficult administrators, the author (an NYT award-winning journalist) lays it all out through inspiring stories and sometimes shocking details.
If you are looking for a good non-fiction, in-depth read, I recommend this four-star book. But if you are a teacher, this book is probably not for you — especially over the summer. In fact, enjoy the work/Iife balance that I hope comes with the summer months for teachers. You deserve it, and the rest of us take it for granted. For the rest of you, you can get lost in candid classroom moments and invest in the well-being of the students and, more importantly, teachers.
What I do not recommend is listening to this as an audiobook. While the author is a talented writer, she is a terrible audiobook narrator. Her attempts to read the book using various accents are awful. And I do mean awful! They are offensive, stereotypical, and cringy. Yes, she tried, but she should keep her day job.
Defending Britta Stein by Ronald H. Balson
It's been a while since I've read a World War II/Holocaust book. Admittedly, it's not my favorite genre. I've read so many because I work in the Jewish community, and typically the book signings and author events center around this time period. Nowadays, the books in this category have to stand out for me to want to read them. And even then, I'm not rushing to pick them up. For instance, I still haven't read "The Nightingale" by Kristin Hannah, which seems to be the new gold standard of Holocaust books since Anne Frank's diary.
Defending Britta Stein came onto my radar because someone in my book club recommended it. I trust her reading tastes immensely, and I was pleased to see that the author wrote one of my favorite historical fiction novels, "Saving Sophie." That was a good sign, so I downloaded the book on my Kindle. Here's the setup:
Britta, a 90-something-year-old woman, is on trial for defamation of a local World War II "hero" who is about to be honored by their town with all kinds of accolades. After spraypainting words like TRAITOR and WAR CRIMINAL on the outer walls of his restaurant, she is quickly caught by security cameras and owns up to the crime. But she insists this man is no hero and wants to tell her side of the story. Most of the book is Britta taking a long time telling her lawyer and granddaughter about her life in Nazi-occupied Denmark. She tells her story in painstaking detail, and unfortunately, by the time she gets to the big reveal about the traitorous actions of this man, I lost interest. I would have enjoyed this book a lot more if the author had put the reader right into the action instead of relying on Britta's storytelling.
However, I wanted to see how the trial panned out, so I kept reading. Sadly, the trial was rushed at the end of the book, and the cartoonish prosecutor with a passion for the limelight distracted me. I think if there is going to be a book about a trial, the author should spend a decent amount of time on the trial as they do on the backstory. I did give this book three and a half stars because the history of the Danish people saving 7200 Jews from the Nazis is an important story to tell and should be told more often. The author did an excellent job depicting the kindness of strangers, and we could all use a little more of that these days.
I'm Wearing Tunics Now: On Growing Older, Better, and a Hell of a Lot Louder by Wendi Aarons
My new favorite podcast is Wiser Than Me with Julia Louis-Dreyfus, where our host interviews brilliant and successful women of a certain age. So far, she has talked with Jane Fonda, Fran Leibowitz, Rhea Perlman, and others about their life experiences and gives them the opportunity to pass along their wisdom to the rest of us. The interviews are brilliant, funny, and inspiring. As a woman in her 50s watching my parents age and my children grow into young adults and wondering how the next chapter in my life will unfold — this podcast is exactly what I need right now.
So, it was no surprise when I couldn't wait to read this funny and poignant memoir about second acts and self-acceptance. The author's reflections on middle age and wanting to chase her dreams spoke to me on many levels. Ladies — her stories are our stories. Her journey is so familiar and validating that I just want to take her to lunch, share our experiences, have a good laugh and then go to a Barry Manilow concert with her. She is a big fan, like me. I don't want to say to spoil the book for you. But I'll leave you with this marketing blurb from Amazon. If any of this resonates with you, I highly recommend this book.
Through personal essays and satirical pieces, you will learn how to:
Follow your dreams, even if you aren't a wide-eyed twenty-something stepping off a bus in L.A.

Throw yourself a middle-age-reveal party

Start over again even if you're 40 (okay, fine, 50)

Find the perfect cocktail to pair with your perimenopause

Not feel pigeon-holed into a boring middle-aged life, or a perfect-mom life, or any kind of life that makes you feel unseen and unhappy

Embrace the comfort of a linen tunic
One More Thing
I am working on a summer reading list that I will happily share with you next week. Stay tuned! And don't forget to support your local indie bookstores!
XO,
Elisa