"Do you want to go outside?"
I ask Chloe this question several times a day. Most of the time, she takes me up on it. I can tell because her ears and eyebrows perk up at my voice. I love the little shuffle dance she performs in front of me because she can't contain her excitement. We are going outside!
It is so cute until it is time to put her leash on, and then she runs around like a toddler who doesn't want to put her shoes on first.
We head out the door and to the right. We always go right, never left. She knows if we turn left, it will be a much shorter walk. Poodles are smart dogs. She loves to stop at her favorite spots – the next-door neighbor's lawn, the brown mailbox, the little bush about halfway down the street, and another mailbox two doors down with the pretty flowers. When we get to the corner, she sniffs around the unscented telephone pole with curiosity and waits for me to give her the next direction.
Across?!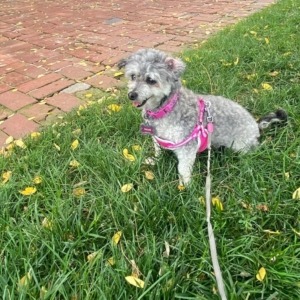 She wags her tail as if I told her we were going to the dog park. This is the best part of the walk. She loves crossing the street. She knows that is where we visit her favorite big rock, the yellow fire hydrant, and the best lawn in the neighborhood where all the dogs mark their territory.
When we finally go back inside, she isn't done with me yet. It's treat time! She runs straight for the entry to the kitchen and patiently waits for her reward for being such a good girl.
Sometimes, I have to skip this part because I am late for a Zoom meeting – like I had to do today. This is when things tend to get ugly. Chloe has no problem following me around the house and staring me down.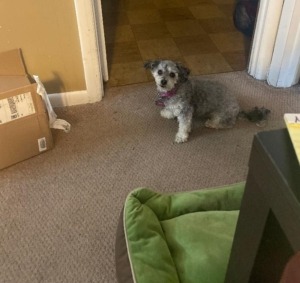 She sits to the side of my desk and barks as if to say, "did you forget something? Hmm?"
If I ignore her in favor of my meeting – with my boss, mind you – she doesn't care. She will wait. She will wait all day if she has to until Chloe gets what Chloe wants.
It's adorable. I give her the treat, and then we go through the whole routine again in a few hours.