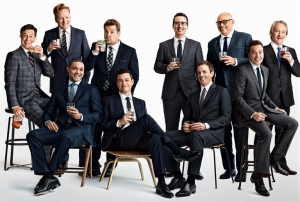 In these troubled and frankly downright scary times in our country, I need a little levity to get me through the day. Thankfully, late night TV hosts are my bae. I don't care who the guests are on tonight's show. I'm in it for the monologues. They are often flawless and talk about exactly what I am thinking, but afraid to say aloud. Other times, they come up with things I wish I thought of myself. Here are my top 4 faves in the order that I always watch them (on my DVR. I can't stay up that late anymore).
Late Night With Seth Myers – After a brief monologue, his segment "a closer look" brings an in-depth commentary on one or two issues of the day. It is brilliant. Google Seth Myers A Closer Look and you will see what I mean. Plus, his writer Amber – can I just say what, what!
The Late Show with Stephen Colbert – If I can't have Jon Stewart and my moment of zen, I'll take Stephen Colbert. I've always liked him – even when he played a conservative blowhard on his old show. Still lovable. And musical. And just brilliant.
The Daily Show with Trevor Noah – Speaking of Jon Stewart, I had my doubts about his replacement. I still wish Samantha Bee or Jessica Williams got the top spot. However, Trevor is smart, funny and I'll just say it – sexy.
Jimmy Kimmel Live! – I'll admit that I was not a fan of his in the beginning. I'm not big on pranks or celebrities or celebrities that pull pranks. But Jimmy has a sensitive side and he isn't afraid to cry on TV and share his life with the world. And I've become a fan.
Who do you watch on late night? P.S. John Oliver almost made this list, but I really have to pay attention to his monologues to get what he is saying and at 11 pm at night that is a lot to ask! Love you John! Can't wait for you to come back in February!