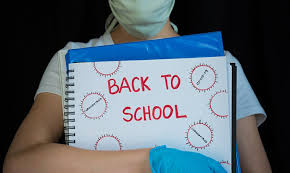 "I'd rather have a life of "oh wells" than a life of "what ifs." 
One of my Facebook friends posted these words of wisdom on her page recently. And believe me, I'm not judging this philosophy. I actually envy it. And, how I wish it was that simple for me to live in such a carefree way. But, unfortunately, I am dealing with this pandemic with more anxiety than positivity lately.
Like many parents, I desperately want our kids to go back to school and return to some sense of normalcy. Andrew does so much better in an interactive classroom setting than reading from a screen. Jenna can be a successful student either way, but obviously prefers attending lectures on campus to learning online. As their mom, I hope they are able to enjoy their youth and all of the milestones that come with it.
But, there is a flip side. The virus hasn't disappeared like some people would like us to believe. As I write this post, CNN is reporting three million cases of COVID-19 in the U.S. THREE MILLION! That is some hoax!
(P.S. – it's NOT a hoax.)
I hate to admit I have concerns. I would much rather have a c'est la vie' attitude. While I have been incredibly impressed with our school superintendent, local officials and the governor, who is thankfully not beholden to the president, all the precautions in the world may not be enough. On the other hand, what other choice do we have? I don't want to be confined to our homes indefinitely. In some ways, life must go on and school is a big part of the process. As parents, we have all done our due diligence by reminding the kids about handwashing, social distancing and mask-wearing. Schools have put a lot of provisions in place and made changes for a safe return and are still working tirelessly to address other issues.
But, this is some scary shit. Am I right? The curve has not flattened and yet we are going from 0-60 – from lockdown to small groups at a social distance to being thrown into crowded schools. In my neck of the woods, restaurants are still limited to take out and outdoor dining only. How will schools do it any better?
I'm clearly in a daze when it comes to this unusual back-to-school season. We are dealing with things we have never dealt with before and on a global level. Hopefully, the plexiglass, hand sanitizer and temperature checks will protect all of our kids until a vaccine is discovered. In the meantime, I will pray that it all comes to an end soon enough.