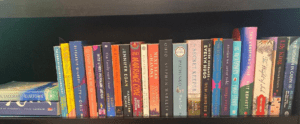 When I was a teenager and the latest CD from my favorite band was released, I couldn't get to Sam Goody fast enough. I had to have it. Nothing was more important than driving to the mall, buying it, and then listening to it on the way home.
Yes, I realize I am dating myself with talk of CD and Sam Goody, but I'm not ashamed of my age. And as I get older, I no longer feel the same rush of adrenaline for music. Sure, I love to attend concerts, and my love of great songs has not dimmed in the least. But I have now replaced CDs with books. I must have them, and when I have the urge, I make a plan to visit one of my favorite independent bookstores. This is probably why I have so many books on my TBR list and own so many of them.
I have yet to conquer this passion for the written word. And quite frankly, I don't want to.
But I do need to curb my spending habits and enjoy the books on my shelf. I must remember the reasons for wanting those titles so desperately in the first place.
Did Oprah recommend it? Probably not, but Reese Witherspoon might have.
Did someone else read it and tell me I'd love it? Yeah, I can easily be convinced to look up suggestions from friends and see if they can earn a spot on my bookshelf.
Did I see the title on bookstagram or the Facebook pages of some of my local businesses? I cannot tell a lie – those pretty photos of book covers placed on a pretty table or a blanket with a cup of coffee next to it are hard to resist.
Because of my Google history and those damn Facebook algorithms, I am bombarded with new releases that everyone is reading, loving, and recommending. But I am happy to report that I haven't bought a book in May, and I don't plan on it anytime soon.
Rediscovering the books I own is slowly replacing the adrenaline rush I experience in bookstores. This is a new kind of high for me. Since I finished a novel late last night, it is time for me to take another hit from my shelves.