"Up, Up, and Away with TWA! – TWA slogan in the 1960s
If you have ever wanted to travel back in time and your DeLorean is in the shop, I suggest taking the elevator at the JetBlue Terminal at JFK airport in New York, where you will find two buttons— "1960s TWA hotel" and "Present Day JetBlue." Do yourself a favor and push the top button, exit the elevator, and walk down a long flight tube with red carpeting to the TWA hotel lobby. And for your listening pleasure, a soundtrack of the hits of the 1960s and 1970s plays throughout the public areas.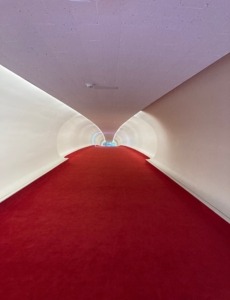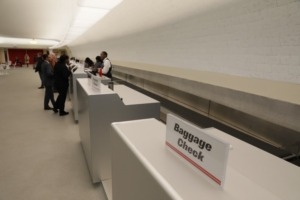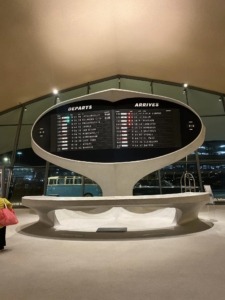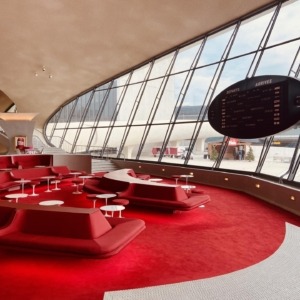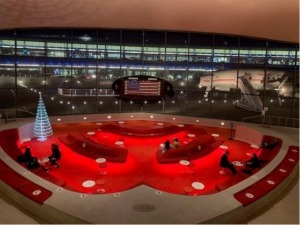 Welcome to the 1960s!
I visited this groovy hotel (is there another word to describe it?) for a few days at a staff retreat. According to the website, the TWA Hotel was restored and reimagined from the original TWA Flight Center (terminal). At check-in, the staff was dressed in flight uniforms, and the desks looked like you would expect in an airport terminal, complete with a place to weigh your suitcase and a conveyor belt to whisk it away. Fortunately, the computer system was upgraded to 21st-century technology, and I was able to self-check in.
While I waited for my room to be ready, I went exploring. First, I  learned some TWA history: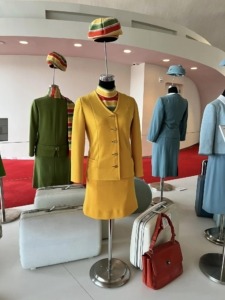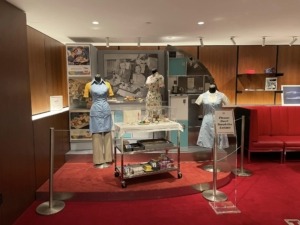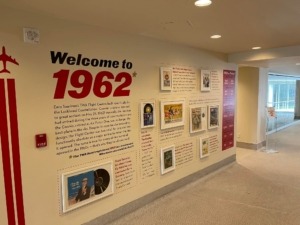 Then, I checked out a game room that I'm sure no other hotel has available—the Twister Room. Too bad I didn't have time to play a game. My room was ready.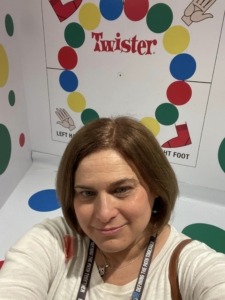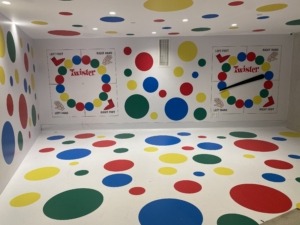 Unfortunately, I didn't get too many photos of my hotel room but think red furniture, rotary phones, and this runway-style bathroom mirror.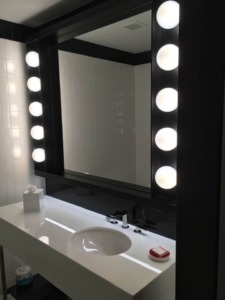 After a long day of meetings, we relaxed in what's called the "Connie"—a 1959 Lockheed Constellation "Connie" airplane turned cocktail bar.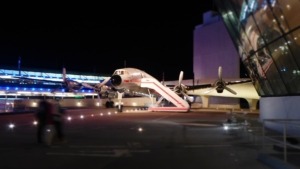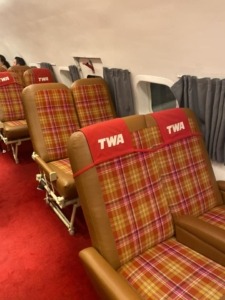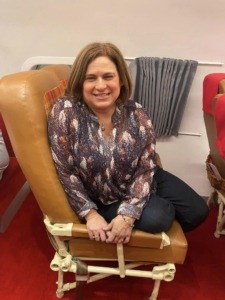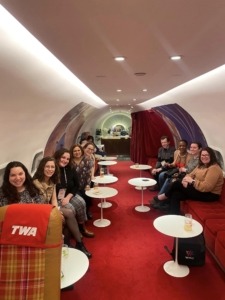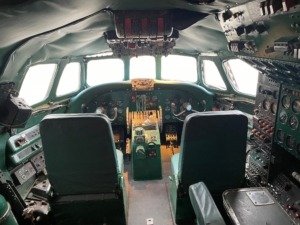 A good time was had by all. 🙂
This was a fun place to stay for a team-building event, a quick get-a-way, or a pit-stop on the way to fly somewhere for vacation. The food was delicious and served in branded glasses. The TWA shop has something for everyone with the TWA logo on it. All of the staff treated us as if we were flying the friendly skies. The only complaint I have is that my room was facing the Jet Blue arrival/departure terminal, where I heard people coming and going all night long. So, if you are looking for nostalgia, you are in the right place, but you won't get the best night's sleep.
Safe travels!
XO,
Elisa