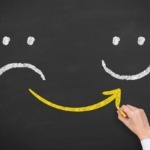 I'll be honest. It's hard to come up with topics to write about when I'm home most of the day. And I don't want to spend this entire month writing daily blog posts about my job search and bore you with all the details. I do have some random items on my mind that I thought I'd lump together in today's post.
World Smile Day
Today is World Smile Day. I like to smile. Who doesn't, right? But, I don't think I have a resting bitch face in me. I like to stay positive even in the most trying of situations. My kids may say that I have a "mom face," but that's different. That face only comes out when I'm annoyed when they don't do the dishes or clean up their rooms like I asked them to do a hundred times. And yes, they don't live here anymore, so I may have retired the "mom face."
I'm sure when they read this, they will let me know.
I try to take smiling to the next level whenever I can. I like to share a smile with perfect strangers as I go about my day. If they smile back, I may comment on the book they are reading on the train or make small talk at the self-checkout as I attempt to plug in the right numbers for blueberries. If my smile is not returned, I don't sweat it. Smiling is just as much for me as it is for them. It keeps me in a positive frame of mind and often random acts of kindness will follow. And don't we all need more of that these days? Give it a try!
My Reading Life
This week, I am diving into two books about personal branding. Fun, right?! Actually, I'm kind of enjoying them. They are well-written and extremely helpful at the moment. I'm also looking forward to reading the new Madonna unauthorized biography. I'm third on the wait list to get it out of the library, so I'm excited. But, it is nearly 800 page, so I'll have to read fast. Henry Winkler ("The Fonz") has his autobiography coming out at the end of October, and I've heard mixed reviews. I'll probably read it anyway. He is such a mensch.
I decided I can't read in bed anymore after 9 pm. No matter how good the book is, I inevitably fall asleep. I have a couch in my office that is comfortable, but not as much as my bed. I just need to get rid of all the clutter piled up on that couch and claim it is as mine.
Halloween
So, if the Phillies make it into the World Series, Game 4 is on Halloween. My costume will not be a problem. I'll be head to toe in Phillies gear, which will be scary to anyone rooting for the other team. And while I love giving out candy and seeing all the kids in their costumes, there is no way I'm leaving my TV every few minutes to answer the door. I'm going to need a Plan B.
But, I'll worry about that later. First, we have to beat the Atlanta Braves. Game 1 is tomorrow, and I'm a little scared. They have a good team year, but then again so do we. Go Phillies!
On the Health Front
This week, I received my flu shot and scheduled my COVID-19 shot for two weeks later. I know some people get them at the same time, but I'm not comfortable with that approach. No judgement here. To each his own, I say. I'm more comfortable putting a little time in between.
Next week, I'm going for my mammogram and breast ultrasound. It's not how I necessarily want to spend my morning, but I never skip these appointments. They are too important. And afterwards, I stop at Dunkin Donuts to give myself a treat. October is Breast Cancer Awareness Month, so ladies, if you need to get "the girls" checked, make an appointment today.
Job Search
Funny story – One recruiter reached out to me about a great job opportunity. I thought we established a nice rapport over email, but in her last message, she called me "Tara." So, I'm not sure if my resume made it onto the short list or if Tara got my spot. When I pointed it to the recruiter for clarification, she ghosted me. Oh well…
On the professional development front, I'm working on an online ChatGPT certificate. When I'm done, I'll have a badge to add to my LinkedIn profile. Since AI doesn't seem to be going anywhere, I guess I'd better start embracing it, add it as a new skill, and get ahead of the competition.
I bet Tara doesn't have a ChatGPT certificate. 😉
XO,
Elisa