I've never met Charlie, but he is one of my heroes.
A childhood cancer hero.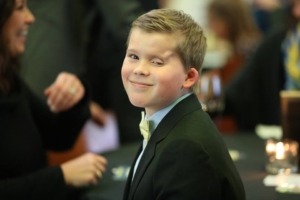 Right before he turned 3 years old, Charlie was diagnosed with a rare brain tumor. He was given less than a 5% chance of survival. He underwent multiple surgeries, endured 2 years of chemotherapy and 6 weeks of radiation. He spent more time in the hospital than on the playground. Because of the tumor, he lost vision in his left eye.
But Charlie is a survivor and he was no evidence of disease (NED) for 8 years. Now 13, he is in the battle of his life again. Doctors found another brain tumor and he had major surgery yesterday. His family posted a photo a few days before showing Charlie with his braces off–not because his teeth were perfectly straight–but because of his pending surgery. Getting your braces off is supposed to be a happy day for kids, but not this time.
Did you know childhood cancer is the number 1 cause of death by disease in the U.S. for children under the age of 19? As the Communications Manager at Alex's Lemonade Stand Foundation for Childhood Cancer, I know this statistic all too well. I use it constantly to inspire people to support much-needed childhood cancer research. But, I don't just write about it. I have the honor of knowing some of the faces behind the statistics.
Yesterday, I marked my 3 year anniversary working for the Foundation. I've written plenty of stories about these kids and their families and what they have been through. I've spoken to researchers about their progress in the labs and the great potential to find less toxic treatments and more cures. But, I don't just work for the Foundation, I donate part of my paycheck to the cause as well. And when you see me, I'm probably wearing a Foundation t-shirt to raise awareness because kids fighting cancer are my heroes.
As part of my writing process, I typically keep one of them at the front of my mind. Today, I think of Charlie.