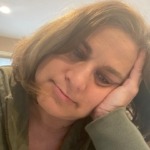 Thursdays are my long days–an eight-hour workday of writing, editing, and communications, followed by 3 hours of a digital marketing class about measuring metrics. It's not my favorite topic, but the professor is engaging, and my classmates are smart and fun to hang out with on Zoom.
But, it is time to call it a night. My chair is practically folding underneath me in protest forcing me to stand up and stretch my legs. My standing desk is now sitting. The video camera has seen enough of me today, and my ring light is fading fast.
"Five more minutes?!" I said aloud to no one in particular. My brain is fried, but I want to keep my blog momentum going.
How am I doing so far?
My pens still have ink. My laptop is fully charged. But I can't keep my eyes open.
Note to self: write two posts on Wednesdays, so I don't find myself in this situation again.
Good night, all.