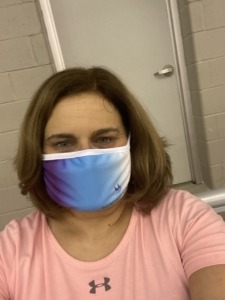 On March 12, 2020, me and 50 of my colleagues met in the back of our office. Our executive director had an announcement. The room is a nice size for meetings and eating our lunch, but when all of us are there, standing shoulder to shoulder, we fill it up.
When I think about it, this may not have been the best place to congregate during a global pandemic. Statistically speaking, at least one or two of us were likely exposed to the virus unknowingly.
But, I digress…
"We aren't sure what is going on with this virus, but we want to be responsible. So, we want everyone to work from home until further notice. We don't know how long it will be but go back to your desks, take what you think you might need for the next two weeks, and head on home. We will stay in touch," said the man in charge.
That was seven months ago, but it seems like a lifetime. Since then, I adjusted to working from home, managed a full house since everyone was sent home, got furloughed, networked my ass off to find a job, and started a new job. And in the midst of all that I ate a lot of salmon for dinner, ran many loads of laundry, and cleaned out closets.
Did I stop to smell the roses during the lockdown? I'd like to think so. We bought fresh flowers every week to brighten up the place. Does that count?
I definitely did more than my typical number of jigsaw puzzles. We all sat down to dinner at the same time every night because we had nowhere else to be. Jenna taught me how to apply eye shadow since that is the only part of my face people will see while wearing a mask. Andrew was in charge of family movie nights. We played Cards Against Humanity with our teenage children – that was a fun night!
Looking back, I wish I had done more. This pandemic definitely gave me the gift of time with my family. But, it was still stressful. We didn't know what we were dealing with and everything was scary. Something as mundane as grocery shopping was scary. Someone coughing nowhere near me was terrifying.
And not only was it stressful, but every day I tried to bring some small element of normalcy back into our lives without feeling guilty. I let the kids hang out with one or two friends on occasion. I forgot to put my mask on when I went to drop something off at a friend's house.
I hugged my parents.
Did I stop and smell the roses? I hope so. I honestly can't remember. All I can say is that in five years when Facebook memories remind me of the mask-wearing, social distancing, and family bonding, I can say I was grateful for our time together and I'm glad it's over.