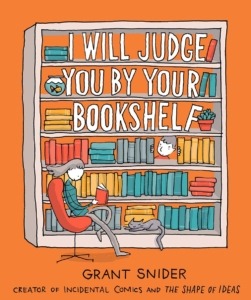 Yesterday was World Book Day, a day to appreciate reading and publishing. In my life, every day is World Book Day, but I was happy to mark the occasion with the newly-published book "I Will Judge You By Your Bookshelf" by Grant Snider. Mr. Snider is an illustrator who I follow on Facebook. He has this uncanny and original way of reaching into my soul as a writer and a bookworm and putting my love of books into his drawings.
I read his book from cover to cover yesterday. You would think it would be a quick read because it is a book of drawings. However, each illustration is thought-provoking as well as entertaining, and I absorbed it all.
And for the record, my bookshelves are real, and they are spectacular. 😉
I only wish I had one large bookshelf to display them all. Right now, my books are in different rooms around the house. I have a small set of nice crates in my bedroom closet that serves as my "go-to" shelf for my next read. These crates are home to trendy novels like "Daisy Jones and The Six"; professional development books with titles like "The Myth of the Nice Girl"; and writing guides which include my absolute favorite "Writing is My Drink."
Across the hallway in Jenna's room, I have books that I have read, enjoyed and can't bear to part with yet. Some of these books include "Tumbleweeds" by Leila Meacham and "Firefly Lane" by Kristin Hannah. I keep these books are close by so I can visit them and reminisce, but far enough away so as not to distract me from the books on my "to-be-read" shelves.
And then, there are the books downstairs in our home office–the purgatory for my books. These will eventually be donated or given away. Most of them are Dilbert anthologies and parenting books that have served me well. I was a huge fan of Dilbert when the comic strip first came out. It made me feel that I was not alone in the workplace. I still look at them, but my love has faded because now I just nod and say "yep, that's true." As for the parenting books, they were wise and witty when my kids were younger, but not much use to me now.
Home organizer and author Marie Kondo wrote in her book "The Life-Changing Magic of Tidying Up" that we should only keep things that spark joy in our lives. I 100 percent agreed with her until the chapter about books. She recommended keeping no more than 30 books in a collection. I understand she has since clarified this statement for us, highly-offended bibliophiles. But now that you know all about my bookshelves, I am sure you can guess which one her book is on.