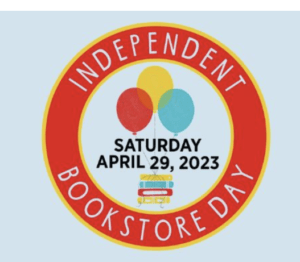 Friends! This Saturday is one of my favorite days of the whole year. It's a day where I get to go to one of my favorite places and impulse buy to my heart's content.
Or until I run out of cash…
It's Independent Bookstore Day!
If you have read any of my monthly book blogs, you might remember me encouraging you to support your local indie bookstore. And if you haven't done it yet, here's your big chance!
Why do I love shopping at independent bookstores? First, the staff is knowledgeable and friendly. They are book nerds just like you and me who decided to open up their own brick-and-mortar store chock full of stories. The bookstore owners and staff are the perfect people to help you pick out your next 5-star read. And the customers – who are otherwise complete strangers to you – are exchanging book recommendations left and right. It's like an AWESOME book club meeting for the public. The coffee and book talk is free-flowing, and these small literary businesses feel supported by their neighbors. There is a kind of magic here that you won't find in a Barnes and Noble, a Costco, or an Amazon website. From author meet and greets to curated bookshelves with plots set in your neck of the woods, readers of all ages will find something to read (and hopefully purchase) in their indie bookstore.
And If you aren't in the market for a new book, that's okay. They sell more than books. Buy a bookmark, a pair of cute reading glasses, some fuzzy socks, a jigsaw puzzle, a fancy notebook, or a gift card for another book lover.
So hold on to your TBR piles! Whatever your plans are this weekend, please stop by and check out your indie bookstore and report back. You will be glad you did!
XO,
Elisa