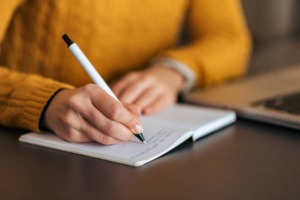 I've pictured myself attending my own book signing. I imagine sitting behind the table with a few hundred copies of y book in front of me and my favorite fountain pen at the ready, to sign the title pages of all the books sold. There's a line of people waiting for their turn to say hello and let me know how my book resonated with them. At the end of the night, I feel satisfied knowing that I have produced something that will outlast me and help people for generations to come.
But, since I haven't finished my memoir yet (only 25K-30K words to go!), I attend author events. I love listening to writers talk about their book and their creative process. Each person has their own story to tell, and I always come away learning something new.
A few weeks ago, I participated in a workshop centered around the book "The Gift from the Sea" by Anne Morrow Lindbergh. Sadly, Mrs. Lindbergh couldn't make it. She passed away more than two decades ago, but her book stands the test of time. A colleague gave me the book as a gift, and it took me years to truly appreciate its collection of essays about how to be a woman. Even though she wrote the book more than 50 years ago, her wisdom resonates as much today as it was first published. This book is one of the few I read repeatedly and has a permanent place on my nightstand.
Tonight, I'm adding another book to my nightstand – Rough Draft by MSNBC host Katy Tur. I've watched and enjoyed her show for many years. Her coverage of the Trump administration was must-see-tv, and her memoir about that experience is supposed to be excellent. Her new memoir is more personal, and I received a signed copy at her book talk tonight.
Being in a room of like-minded and politically aligned people is also nice. As much as I enjoyed the author portion of the program, the Q&A afterward made me realize I'm not the only person disturbed and saddened by the state of our democracy.
But I digress… author events are a terrific way to spend an evening with friends. I'm grateful to have people in my life who enjoy them as much as I do. And now, I need to start looking for the next one to attend.
Do you attend book signings? What do you like about them?