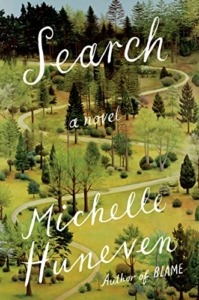 Last month, I read and reviewed four books. I hoped to keep my momentum going through April, but alas, I only finished one book. On the plus side, it was an excellent read, and I highly recommend it.
Search by Michelle Huneven tells the story of a woman who is invited to join her congregation's search committee for a new minister. She belongs to a Unitarian Universalist church which attracts people from all religious backgrounds to their community. While this denomination is unfamiliar to me, the personalities and politics involved in seeking a new spiritual leader are pretty universal. I enjoyed listening to this fictionalized memoir (meaning the names are changed, but the story is the real deal. My experience working in the Jewish community as a communications professional has allowed me to interact with fantastic people with different priorities and opinions who all have one thing in common—a love for their congregation. That same love and desire for what's best for the future of their community are what drive this particular search and this book. And if you aren't involved in a congregation, you will still enjoy this book for its relatable characters and stay until the end when they choose a minister and the effect that decision has on the committee members, including the author.
I listened to the book on Audible, and the narrator did an excellent job distinguishing between the various characters. This is no easy task because the reader needs to follow along with each person's back story and contributions to the committee's work. Because the narrator did such a fantastic job, I enjoyed the book even more as I listened to everything unfold. If you read this one, let me know. I'd love to talk about it with you!
In Other Book News:
I am four books behind on reaching my Goodreads goal of 40 books read by the end of the year. But I'm not too worried. Summer is coming, and my pretty back patio will soon beckon me to sit outside, enjoy the nice weather, and read some fantastic books.
Right now, I'm in the middle of reading several books, hoping to finish three of them in May. The books I'm reading right now are:
This Time Tomorrow by Emma Straub – I'm about halfway through this time-travel novel. I stopped reading a while back because I simply lost interest. But I've heard so many rave reviews about this book, and I want to see how it ends.
I'm Wearing Tunics Now: On Growing Older, Better, and a Hell of a Lot Louder, by Wendi Aarons – I just started this funny memoir about "second acts, self-acceptance, and celebrating what happens when a woman gets older." I'm only a few chapters in, but I can relate to this author; her experiences are mine too. I'm sure I'll finish this one quickly.
Beartown, by Fredrick Backman – I know. I know. I haven't read this one yet, and it's a lot of people's favorite 5-star book. Sometimes I think the hype leads to my disappointment, but I hear it's well-deserved in this case.
Defending Britta Stein, by Ronald Balson – This World War II novel is our next book club pick. I just downloaded it yesterday from Amazon after being unable to find it at my local indie bookstore.
Speaking of indie bookstores, I visited one of my favorites yesterday and purchased two books: "The Most Likely Club" by Elyssa Friedland and "The School for Good Mothers" by Jessamine Chan. I also got an Advanced Reader Copy (ARC) of William Landay's "All that is Mine I Carry With Me." His last book, "Defending Jacob" (a limited TV series), was one of my favorite five-star reads several years ago. I thought I had the book downloaded on Audible and also wanted a hard copy. I realize now that I have it on Kindle, so I'll probably give this copy away. This is one of the occupational hazards of having too many books to read—you may acquire more than one copy. Good thing it was free.
One More Thing
This is the last post for the April Ultimate Blog Challenge. I didn't quite make 30 posts, but I've written more than I have in months. I've also met some excellent writers and read their terrific blogs. This writing community is so supportive, and I always appreciate having the opportunity to write with them four times a year. I am also incredibly grateful to all of you who continue to read my blog posts and subscribe. Just because the month is over, I'm not done blogging. Stay tuned for more in the coming weeks.
XO,
Elisa