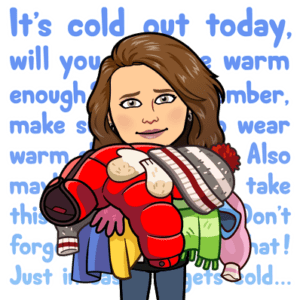 Dearest Family,
Now that the first snow has fallen and the temperatures have dropped significantly, I want to reacquaint you with a wonderful, state-of-the-art feature that came with our house. I understand that after two seasons of warmer weather and a lovely fall, you may have forgotten its purpose and existence.
Drumroll, please…
Meet the coat closet! This special place conveniently located in our front foyer is set behind two sliding doors and well equipped with everything you need to hang up your winter jackets. Over the past year, management has taken great care to retire the hangers that no longer serve a purpose. They include but are not limited to the bent, metal ones that could poke your eye out and the cheap versions that came from the local dry cleaners. These hangers have been replaced with new and improved versions that I believe you will find to be highly qualified and to your liking.
And, if I may be so bold, consider taking an extra minute to zip up your coat after placing it on the hanger to ensure that it doesn't wind up on the floor.
Please note that management will no longer tolerate the aforementioned coats being thrown in places such as (but again not limited to) – the seating bench in the foyer, all of the couches, the red swivel chair, or the dining room table. Winter coats left on your bedroom floors will also not be searched for or retrieved by management when you submit a request for me to find them. I have determined that this responsibility is well below my pay grade.
By performing this simple but important task, you can continue to play a crucial role in contributing to the overall beautification of our living space.
Management greatly appreciates (and wholeheartedly insists upon) your cooperation in this matter.
Thank you.
XO,
Elisa (the "management")