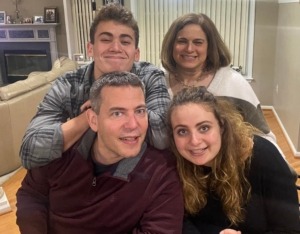 January is almost over – wow, that was fast! Here is a recap of what's happening in my world.
Family Updates
Jenna made the Dean's List, turned 21 this month, and started her role as president of Towson Hillel.
Andrew became an Eagle Scout, is having a great swim season, and is close to deciding on college next year.
Chloe (our fur baby) is not loving the cold weather and can't wait for spring. She isn't the only one that feels this way.
COVID Stats
1 COVID-19 exposure
4 COVID-19 tests
Three negative tests and one positive
Five days of quarantine
Work Highlights
I had a wonderful conversation with my boss on Friday as part of my annual review. I am in the middle of one rebranding project that is going well and have lots of new goals to accomplish in 2022.
Reading Goals
Set my 2022 Goodreads goal for 35 books
Purchased five books
Read two
(Side note: Do podcasts count as reading? I've listened to a ton of them this month, so I think they should.)
Writing Goals
Wrote 26 published blog posts (so far) and four drafts that are not ready for publication.
8,048 words (and counting).
Average blog post length – 322 words
New subscribers 3 (help a girl out here and please subscribe to my blog – #shamelessplug)
I'm also submitting one essay about friendships and middle age for publication in February. It's my first time putting something out into the world beyond my blog/comfort zone. Wish me luck.
Oh, and I'm also writing a book. Did I mention that?
How was your January? What were some of the highlights? I'd love to hear what's happening in your world. And, if you read this blog and like it, consider subscribing and/or sharing them on your own social media pages. Even a "like" goes a long way. Thanks!
XO,
Elisa