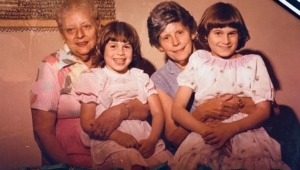 They say that you never forget your first kiss, first trip to Disney World, first car, and many other firsts.
How about the first time you lost someone close to you in your family? Do you remember? I certainly do.
My Grandmom Elsie passed away on December 15, 1987, which happened to be the first night of Hanukkah. Even though her birthday is in April, I remember her the most this time of year. I was almost seventeen when she died. I can still picture my mom standing at my bedroom door, waving her arms above her head, trying to get my attention. I was sitting on the floor drying my hair before school and saw her in my full-length mirror. When she told me the news, I remember a wave of sadness rushing over me, and I promised myself that I would never forget her.
I wish I could say that I had deep conversations with Grandmom Elsie throughout my childhood. I was eleven years old when she was diagnosed with Parkinson's Disease (PD). I had never heard of PD before and didn't know much about it except that it robbed me of the opportunity to get to know her better. Of course, it robbed her of much more.
But, what I do remember, I treasure. Like how Grandmom taught me to play gin rummy at her dining room table. And how she always had Pepperidge Farms Milano cookies in the kitchen pantry and Andes chocolate mint candies in the candy dish. She took me to the pool at her apartment complex, where she loved to swim and hang out with her friends. While I didn't learn to swim, the ice cream sandwiches were divine.
Speaking of firsts, the first time I went on an airplane was to visit Grandmom Elsie and Grandpop Irv in West Palm Beach, Florida, where all the Jewish grandparents flocked to for the winter. She was so happy to see my cousins and me. She helped me with my math homework and may have introduced me to competitive shuffleboard. After visiting with them for a few days, my aunt and uncle took us to the Magic Kingdom in Disney World, which was also a first for me.
Last week, I asked my mom to tell me more about her mother. It turns out that my grandmother and I have a lot in common. She was an avid reader and coffee drinker. She didn't like to cook. She worked outside of the home, which was rare in the 1950s. She enjoyed being around young people and had many friends in the neighborhood.
My mom told me how brave she was after being diagnosed with PD. She always said that she had a good life and was brave in the face of the unknown. Parkinson's Disease is not a death sentence, but it is life-changing. It is a progressive neurological disorder, and there is no cure – yet.
Did my grandmother belong to a neighborhood book club? Who were her favorite authors? Was she a fan of romance novels or family dramas? Did she experience the same working mom guilt that I did when my kids were younger? When she had to cook, did she have a go-to meal that she made all the time?
Over the past few years, I've learned a lot about PD and writing a book about how it has impacted my family – another first). But, for the moment, I want to give the science a rest and let the stories behind the diagnosis. I'd love to sit in her lap and talk to her (like in this photo – Grandmom and I are on the right and my sister and Aunt Martha on the left). But unfortunately, life doesn't work that way.
For those who wish to share these stories and their own stories, I'm here for it. Let's talk!