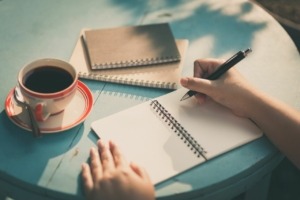 Hi there. Have you missed me? Have I been neglectful? I know I'm not living up to the promises I've kept – like writing every day for the Ultimate Blog Challenge.
I know I strayed, and I'm so sorry. The truth is I've been doing a whole lot of writing and posting lately – but not here. Not on my blog.
And I'm going to come clean, right now.
I've been cheating on you with LinkedIn.
There. I said it. I feel much better now that I've gotten that off my chest.
I don't know what happened. I just can't help myself. Every time I get a free minute, I'm there and not here. For a while, I thought Facebook was my mistress, but it turns out LinkedIn has my heart. It has become my new favorite social media platform. And honestly, I've been spending a lot more time there than I do here with you on my blog.
And I'm very sorry.
You see, LinkedIn and I been through a lot together over the past few months. We have an understanding. While furloughed, I had nowhere to go, and then I remembered my old friend. At first, I only logged on once a day. And then, I downloaded the app on my phone, and it became several times a day. I've made some new friends. I read the articles. I added my thoughts. I have had amazing conversations with people I've never met in person before.
I know. It's so weird. I never thought this would happen to us.
And I wish I could just give it up, but I'm too invested now which could actually a good thing. And although I've landed a wonderful job and turned off my recruiter radar and unsubscribed from the job notifications, I want to know how my fellow furloughed friends are doing. Did they find jobs? Where are they applying? How can I help them as they helped me?
I don't think I'll ever turn my back on it. I can't, so please don't ask me to.
I learn so much from the people there. I find new ideas and professional advice from leaders in my field. I share my own expertise and meet more people every day. It would be foolish to throw it all away.
But, I promise you this. I'll pay more attention to you and the friends I've made here. I'll carve out time to spend with you because you are important to me too. After all, this blog is my first love, and I won't take it for granted again.
I hope you can forgive me.