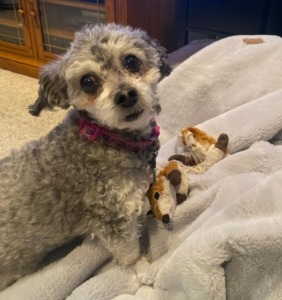 The New York Times did a wonderful interview with a British author I've never heard of, but I loved her answers to the questions. I thought I'd take some of the same questions and answer them for this post. I hope you read this to the end because there is a bonus question I'd love you to answer.
What is your ideal reading experience?
I love to read on my living room couch with a pillow to prop my head up, so I don't fall asleep. There is no tv in my living room, which means there are no distractions. I also like to enjoy a cup of coffee or a glass of white wine with my book (depending on the time of day). And typically, my dog, Chloe, is curled up next to me on top of my fleece blanket. She likes it when I read aloud to her.
What's your favorite book that no one has ever heard of?
This is Where I Leave You by Jonathan Tropper. Actually, people may have heard of it because it was made into a movie a few years ago starring Jason Bateman and Jane Fonda. It was well cast – but as always – the book was so much better.
Which writers do you admire most?
I love authors who have done their research and come up with stories that I learn from – like
Jodi Piccoult, Lisa Scottoline, Kristin Hannah, Chris Bohjalian, and many others.
How do you organize your books?
I have to tell you about this new app I found for my iPhone called Book Buddy. Remember when you registered for your wedding, and you were allowed to use the barcode scanner to make a list of what you wanted. Wasn't that fun and so addicting?! After I downloaded this app, I ran around the house and scanned all of my books. I can also mark which books I've lent out to other people and which ones I want to buy next. Everything is neatly organized and categorized on my phone, and I love it!
As for my actual books, I keep them on a few shelves in no particular order and off the floor.
What's the best book you've ever received as a gift?
Speaking of registering for things, I wish I could register for books. It would make it so much easier for people who want to buy me a gift. Since I'm sure that kind of registry doesn't exist, I prefer a gift card to an independent bookstore. If someone really wants to get me a book, I show them my Amazon wishlist or Goodreads account. The best books I receive as gifts are the ones I already picked out for myself but haven't purchased yet.
What kind of reader were you as a child?
I always asked my parents to read to me when I was little. I learned to read before most kids, and once I did, I was never without a book in my hands. I remember when my mom went shopping for clothes, dad took us to the bookstore. And when I went to yard sales or the local flea market with my dad, he looked for records, and I dug through boxes of books. We both left feeling pretty happy with our purchases. At bedtime, I was the kid who hid a book and a flashlight under my pillow. They never punished me for staying up late to read, so really, my book-buying habit is all my parents' fault. They unknowingly created a monster.
But, I digress…
How has your reading life changed as you got older?
When I was a kid, I re-read books because I enjoyed them and wanted to read them again. But a lot of those books were easy to read and around 100 pages. I rarely do that now because I don't have the time, and there are too many new books I want to read. I have a few books that I will never part with and want to read again someday.
What book(s) are you embarrassed to say you haven't read yet?
To Kill a Mockingbird and anything by Jane Austen. Terrible, right? Please don't tell anyone.
What is on your nightstand right now?
The Seven Husbands of Evelyn Hugo
The Writer's Guide to Persistence
What book do you plan to buy next?
This one and this one. Oh, and probably, this one. But none of them until June 1st, when my month-long book buying fast is over.
One final question for you – What do you want to ask me about reading? If you ask. I'll probably write about it in a future blog post!