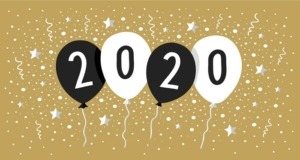 One of the podcasts I'm really into right now is Happier hosted by best-selling author Gretchen Rubin and her sister Elizabeth Craft. In the latest episode, the co-hosts encourage listeners to come up with a list of 20 things to accomplish in 2020. They say that research shows people who create concrete goals are 50 percent more likely to feel confident they will achieve their goals and 32 percent more likely to feel in control of their lives. Sounds good to me!
This list took a lot longer to put together than I expected, but I'm quite happy with the results. Some items are easy to accomplish, and I just need to make it a priority to get them done. Other things on the list may make your jaw drop. You have been warned. And of course, I've included a lot of writing projects. I think this list not only reflects my goals but also tells you a little bit more about me.
So, without further ado–I present to you my 20 for 2020 list.
Get a Real ID card.
Read 20 books THAT I ALREADY OWN.
Shed and keep off 15 lbs. (maybe more)
Relearn how to swim and finally face my anxiety about participating in water activities (boat rides,
water slides, etc.).
Learn how to apply eye makeup.
Find a workout routine that I enjoy and willing to stick with for a decent and reasonable amount of time.
Attend a major writing conference.
Research my latest book idea and have an outline in place by the end of the year.
Learn the basics of Twitter and Instagram.
Purchase and hang up more artwork around the house.
Watch Frozen (yes, I've never seen it. I know, shocker!)
Start (and keep) a journal.
Have dinner at Zahav in Philadelphia
Walk every day.
Plan something special for my 50th birthday (in 2021, baby!)
Find opportunities to make someone else's life easier, and then do it.
Write more blog posts.
Enter a few writing contests.
Improve my networking skills.
Say yes to new experiences.
So, what is on your 20 for 2020 list? I'd love to see it!