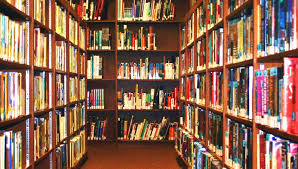 I still remember standing on my tiptoes to reach the higher drawers of the card catalog in the library. If there was no step stool nearby, I'd walk over to the front desk and ask the librarian for help. She would help me look up what I needed and then take me to the right spot in the library to find my book. While there, I was free to search the stacks to my heart's content for other books on the same topic or by the same author or discover something completely different that might interest me. Those were the good ol' days.
When I was a college student, things were a little more high-tech. I sat in front of a computer monitor and typed in the subject, author or title of the book. No step stool necessary. Within seconds, the computer would cough up the names of all the books with similar titles and authors. I'd print out the list on the dot-matrix printer on the other side of the library and then walk up the stairs to peruse the shelves for my book.
Today–25 years later–I learned about the latest in library technology on a college tour. Students walk up to a kiosk, type in the book they want, and WAIT FOR IT…a robotic arm will find the book and deliver it to a central location where a staff member will place it on a pickup shelf for convenience.
Yes, you read that right…a robotic arm. The official name for this is BookBot–a book retrieval and delivery system which apparently saves on shelf space and opens up the opportunity for more classrooms and meeting spaces on campus. Or maybe just another Starbucks.
The tour guide likened this state-of-the-art system to ordering a hoagie at a Wawa. Just walk up to the counter and make your selection from countless options on the screen and hit enter. Within minutes, someone makes your hoagie, wraps it up and delivers it right to you. But in this scenario, the hoagie is a book and the person who is waiting on you is replaced with a robotic arm.
As a self-proclaimed book nerd and now library geek, I find this whole thing rather depressing. This truly takes all the fun out of discovering other literary treasures in the library. And honestly, where does it end? Will an army of robots soon be deployed around campus hunting students down for their overdue library books? Will a robot stay at her doorway and hold her hostage until she uses her iPay app to pay the fine?
Of course, when I asked her if she thought this was creepy or cool, she thought it was awesome.
I, on the other hand, miss the card catalog.